25 Ukrainian Doctors Graduate from English language course initiated by Consultants in St. Vincent's University Hospital
25th May 2023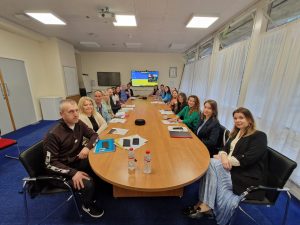 St. Vincent's University Hospital (SVUH) is proud to announce the successful graduation of 25 Ukrainian doctors from a comprehensive English language course. The course was initiated and developed by SVUH consultants Dr. John Holian and Prof Hugh Mulcahy, supported by the hospital's CEO, Michele Tait and delivered by Ukrainian lecturer, Prof Oksana Kachurets in response to the significant language barrier faced by Ukrainian doctors arriving in Ireland post the Russian invasion.
The graduation ceremony, held yesterday evening, Wednesday 24
th
 May, was a moment of great pride and achievement for both the doctors and SVUH hospital staff. CEO of St. Vincent's University Hospital, Michele Tait, expressed her appreciation for the doctors' dedication and highlighted the hospital's commitment to supporting healthcare professionals from around the world.
"We are thrilled to witness the successful completion of this English course by our talented group of Ukrainian doctors," said Michel Tait. "By investing in their language skills and preparing them for the Professional and Linguistic Assessments Board (PLAB) test, we hope to contribute to their future success and enhance their ability to provide the best possible care to our patients as they pursue their medical careers in Ireland. I want to express my deepest gratitude to our consultants who have dedicated their time and expertise to set up this invaluable course. Your initiative and commitment to bridging the language barrier in healthcare is truly commendable, while breaking down barriers and creating a more inclusive and supportive healthcare community."
According to Dr. Polina Smolovyk, one of the graduates, "This course has not only improved our language proficiency but has also instilled in us the confidence and competence to excel in our medical careers. We are truly grateful to St. Vincent's University Hospital for their support and guidance."
Dr. John Holian expressed his pride in the graduates, saying, "The level of engagement and enthusiasm throughout the course has been fantastic and made it a really rewarding experience for us all. We've gained a deeper understanding of the challenges faced by Ukrainian doctors who want to practice medicine in Ireland. Ultimately, we hope this practical course will benefit them as they strive to become part of the healthcare workforce here."
Prof Hugh Mulcahy said, "Following clinical observerships held at SVUH, it became quite clear to us that Ukrainian doctors living in Ireland are committed to not only practicing medicine in Ireland but also to helping the approximate 75,000 Ukrainian refugees who have been displaced to our country and find it difficult to access the Irish Healthcare System due to language barriers. We are immensely proud of what these doctors have achieved since arriving in Ireland and will continue to support them throughout their medical journey here."
"I am truly inspired by the graduation of these Ukrainian doctors from this English course", said Fine Gael Senator Emer Currie, Spokesperson for Special Education and Inclusion & Northern Ireland who advocated for increased medical exams and better employment pathways to facilitate Ukrainian doctors who want to practise in Ireland.
"By providing language courses and support to international medical professionals, we enable them to fully utilise their skills and expertise in our healthcare system. This not only benefits the doctors themselves but also enhances the quality of care and services available to all patients, especially the Ukrainian people living in Ireland, many of whom are experiencing challenges accessing the Irish Healthcare System due to language barriers. We need to do everything we can to support the integration and inclusion of Ukrainian medical professionals here in Ireland."
The graduation ceremony was attended by representatives from SVUH and Fine Gael Senator Emer Currie. The event celebrated the doctors' accomplishments and reflects a commitment to fostering collaboration with Ukrainian doctors in the healthcare sector in Ireland.
–          ENDS –
For media enquiries, please contact:
EDITORS NOTES
The Professional and Linguistic Assessments Board (PLAB) test
, recognised by the Medical Council of Ireland, serves as a crucial assessment for non-EU overseas doctors seeking to practice medicine in Ireland.
In July 2022, SVUH held an open day for Ukrainian doctors to give them a feel for the hospital. Out of this grew medical and surgical observations where doctors were invited to shadow their Irish colleagues and experience the Irish Healthcare System first-hand. These commenced in September 2022. Ukrainian doctors who had fled their home country and were displaced in countries across Europe started to hear about these observations and reach out to the hospital. Many of these doctors subsequently joined the SVUH clinical observations, most recently from Finland.
The initiative, which began in March this year, provided Ukrainian doctors with an opportunity to develop their English language abilities and confidence in the practical and immersive clinical setting of SVUH. The 8-week English course, was tailored to meet the specific needs of the participants and spanned a comprehensive curriculum designed to enhance the doctors' proficiency in medical terminology, effective communication, and patient-centred care. The curriculum also emphasised cross-cultural understanding and sensitivity to ensure effective communication with diverse patient populations.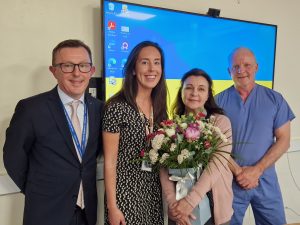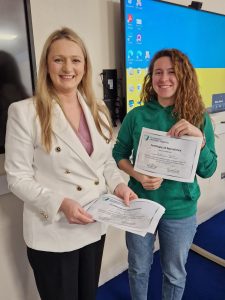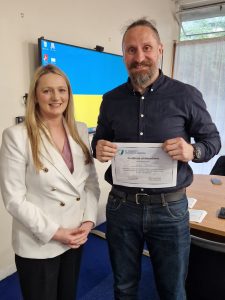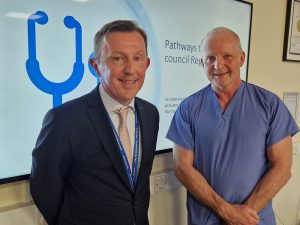 Patient and Visitor Handbook
Our handbook contains all the important information you need when visiting our hospital whether you are a patient or a visitor.
Travelling to and from the hospital
Elective admission information
Emergency Department attendance
Patient safety information
Information on what we will do to get you home
Data protection
Security information
Infection control policy
No smoking policy
Visiting arrangements
Daffodil Centre
St. Vincent's Foundation