A warm welcome to our new nurses to SVUH
10th March 2023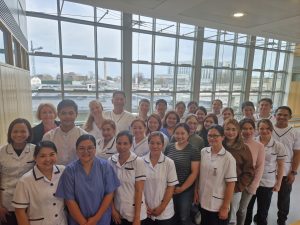 We are delighted to welcome our new nurses who have travelled all the way from the Philippines and India to join our growing team at SVUH.
Sherin from India said she is so happy to be here. "Ireland is a beautiful country, I am really excited to be here. Being able to come with my family is amazing. It was a daunting experience for me I have to admit but Irish people are so friendly and welcoming. Ireland offers a lot of opportunities to learn, study and develop my nursing career. I am so grateful to all the staff here in SVUH who I have met so far. The Education team has been so supportive and made this whole process so easy, they welcomed us with open arms from day one. All the nurses and staff are really supportive and make it easy for me to ask for help when needed, I feel part of the team already. I know I have made the right decision in coming to Ireland and joining SVUH."
Keb from the Philippines said that his reasons for coming here are multi-factorial. "Some of my college friends went to America and Canada and more came here to Ireland and are working in SVUH. They were telling me I had to come and how much they loved it here, the quality of patient care is excellent. My wife is also a nurse. I am very grateful to SVUH who also welcome partners and have been so accommodating to both of us. We feel very privileged and are loving working in the hospital so far. We have encountered some amazing patients who are so appreciative of our care. We hope to create and raise a family and build a good life here in Ireland."
Shara, also from the Philippines has been living in Ireland for the past 13 years. She was inspired to join SVUH last September. "My Dad is a stroke patient and my husband a diabetes patient. Their phenomenal patient experience here in the hospital motivated me to join. I started as a Healthcare Assistant, while going through the NMBI process. I am a qualified nurse in the Philippines. I am so happy all my paperwork is through now and I can begin my journey as a nurse in Ireland. Thank you so much to the hospital for helping me every step of the way."
We wish each and every one of you every success as you progress your nursing careers in SVUH.
If you are interested in joining our nursing team, please visit www.svuh.ie/careers
#nurses #nursingcareer #healthcare #jobfairy #careersSVUH
Patient and Visitor Handbook
Our handbook contains all the important information you need when visiting our hospital whether you are a patient or a visitor.
Travelling to and from the hospital
Elective admission information
Emergency Department attendance
Patient safety information
Information on what we will do to get you home
Data protection
Security information
Infection control policy
No smoking policy
Visiting arrangements
Daffodil Centre
St. Vincent's Foundation