Best of luck to Finbar O'Regan, porter at SVUH & Transplant Team Ireland at the World Transplant Games 2023
13th April 2023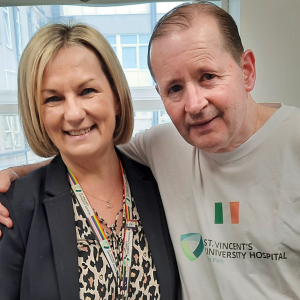 Michele Tait, Interim CEO at SVUH was honoured to present Finbar 'The Phoenix' O'Regan, porter phenomenon here at the hospital with special t-shirts as he flies off today to participate in the World Transplant Games 2023 in Perth for the first time with Transplant Team Ireland.
Finbar underwent a liver transplant on the 15th January 2019 here at SVUH thanks to the generosity of the family of a deceased donor. Prior to his transplant, he had been told that he had a less than 2% chance of survival and had said his goodbyes to family & friends.
Remarkedly, Finbar will be participating in the Tennis Singles, Table Tennis Singles, Petanque Singles and Petanque Doubles!
He wants to use this opportunity to give hope to everyone he meets and most especially to those who find themselves on a transplant journey. He also wants to encourage more people to become organ donors and to discuss their wishes with loved ones, one organ donor can help save 7 lives.
Also travelling is Tony Gartland, who was the first patient at SVUH and in Ireland to undergo a liver transplant 30 years ago in 1993. He will compete in the Ten Pin Bowling Singles, 5km Road Race, 5,000m Race Walk, 1500m Track and 800m Track.  Tony works as a carpenter and is one of the most experienced members of Transplant Team Ireland having first represented Ireland at the 1995 World Transplant Games in Manchester, England. He has picked up an enormous number of medals across the year and is a highly respected competitor by his peers from across the globe.
Please join us in wishing Finbar, Tony and all the Transplant Team Ireland Panel every success at the World Transplant Games 2023.
You can follow Finbar's, Tony's and the team's progress on Transplant Team Ireland – Promoting Organ Donation and Transplantation through Sport.
#bestofluck #transplantteamireland #teamireland
#poweredbythegiftoflife #giftoflife #LeaveNoDoubt #ShareYourWishes #transplantation
Transplant Team Ireland photography by Conor McCabe.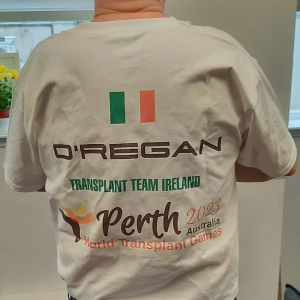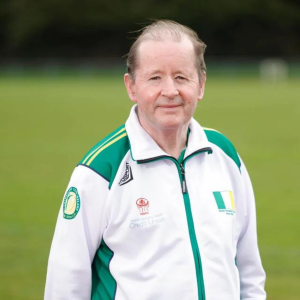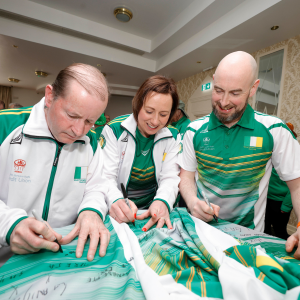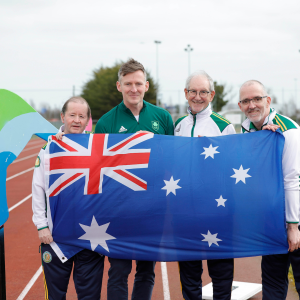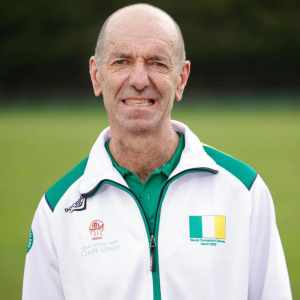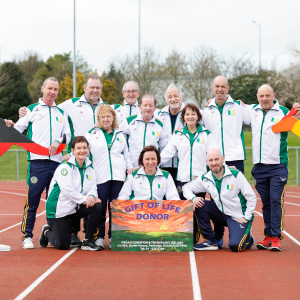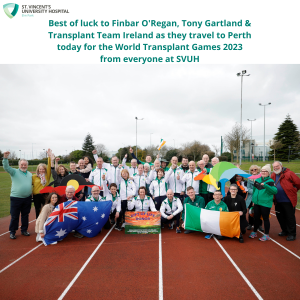 Patient and Visitor Handbook
Our handbook contains all the important information you need when visiting our hospital whether you are a patient or a visitor.
Travelling to and from the hospital
Elective admission information
Emergency Department attendance
Patient safety information
Information on what we will do to get you home
Data protection
Security information
Infection control policy
No smoking policy
Visiting arrangements
Daffodil Centre
St. Vincent's Foundation