Cancer Referrals Continue to Increase at St. Vincent's Healthcare Group
1st September 2016
St. Vincent's Healthcare Group saw an increase in patient referrals across all cancer services in the Group's hospitals in – St. Vincent's University Hospital (SVUH), St. Vincent's Private Hospital (SVPH) and St. Michael's Hospital (SMH), Dun Laoghaire during 2015, its Annual Cancer Report published today shows.
SVHG is one of eight cancer centres under the HSE National Cancer Control Programme (NCCP) and one of two cancer centres within the Ireland East Hospital Group.  The Group is the national centre for specialist treatment in sarcoma, neuroendocrine and hepatocellular cancers.
"The volume of cancer related activity is increasing year on year by approximately 10 – 15%.  This is reflected in the 10% increase in chemotherapy treatments compounded in the Group's Pharmacy Aseptic Unit during 2015 and the 28,000 oncology samples examined by the SVHG Pathology Department.   The increase in patient referrals year on year is not without its challenges, but SVHG continues to provide the highest possible standards of care to its patients, introducing rapid access clinics for the evaluation of patients and treatment programmes aimed at reducing hospital stays for patients", said Prof Ronan O'Connell, Head of Section of Surgery and Surgical Specialties at SVUH, and head of SVHG's Cancer Committee.
"For example, in the treatment of colorectal cancers laparoscopic surgical techniques are used in the majority of procedures, resulting in minimally invasive surgery and enhanced recovery protocols for patients.  The average length of stay in-hospital for these patients is now just 8 days.  We also have plans to introduce robot assisted laparoscopic procedures for the treatment of patients with prostate cancer in St. Vincent's campus and the Group continues to invest in infrastructure and technologies to deliver the best possible outcomes for patients", he said.
Prof O'Connell said that multidisciplinary team (MDT) meetings are embedded in the weekly schedule of the hospital and that every patient with a cancer diagnosis is reviewed by a multi-disciplinary team of consultants.  "In 2015, over 10,000 patient episodes would have been discussed at MDT meetings.  This ensures SVHG patients have the benefit of the full range of expert advice needed for their high quality care", said Prof O'Connell.
Prof O'Connell paid tribute to Prof Aongus Curran who died in a tragic accident this Summer.  "Prof Curran was recognised nationally and internationally for his work as a Head and Neck surgeon. We have lost a valued colleague and friend and the Irish health service has lost a distinguished surgeon.  The 2015 annual report details the work of Prof Curran and his colleagues in Head and Neck Cancer Services and is a fitting record of his enormous contribution to cancer services within the Hospital Group".
The Annual Cancer Report 2015 published by St Vincent's Healthcare Group shows:
Over 13,225 outpatients attended the Group's Symptomatic Breast Service
The number of new primary breast cancers treated increased by 11% on 2014. (Of the 668 new patients treated for cancer in SVHG in 2015; 396 were diagnosed in SVHG and 272 in BreastCheck)
There was a 32% increase in the number of new patients referred to colorectal cancer services – the largest number of new patient referrals to a single unit in Ireland. Of the patients referred, 393 were newly diagnosed with colorectal cancer
Almost 10% of people in Ireland diagnosed with lung cancer are diagnosed at SVHG. Of the total 619 patients seen in 2015, 192 were diagnosed with cancer
Over 5,000 new and review patients were referred to urology with 320 cancers diagnosed in 2015
Nearly 500 patients a year are referred for assessment to the National Pancreatic Centre at St. Vincent's with 100 procedures for pancreatic cancer performed in 2015
Over 1,700 patients were diagnosed with skin cancer – 165 patients with melanoma; 1,101 cases of basal cell cancer; 501 cases of squamous cell cancer and rarer cutaneous malignancies diagnosed included lymphoma and dermatofibroma sarcoma protruberens
Patients referred for Hepatocellular Carcinoma increased 73% to 271 patients, with a corresponding 28% increase in new Hepatocellular Carcinoma (HCC) treated. (97 patients)
A 26% increase in Head & Neck cancers treated (126 patients)
A 65% increase in patients diagnosed with sarcoma (132 patients)
156 new cases of gynaecological cancers were treated in SVHG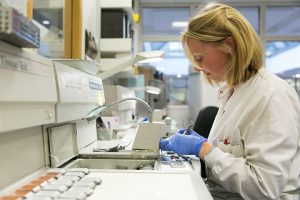 Issued 1st September 2016
Patient and Visitor Handbook
Our handbook contains all the important information you need when visiting our hospital whether you are a patient or a visitor.
Travelling to and from the hospital
Elective admission information
Emergency Department attendance
Patient safety information
Information on what we will do to get you home
Data protection
Security information
Infection control policy
No smoking policy
Visiting arrangements
Daffodil Centre
St. Vincent's Foundation