Infectious Diseases
The Department of Infectious Diseases specialises in the management of acute and chronic infections.
Established in 2014, the department has a busy Outpatient Parenteral Antimicrobial Therapy (OPAT) service, a dedicated infectious diseases clinic and a viral hepatitis clinic in conjunction with the St.Vincent's University Hospital hepatology service. The department is also involved in research and postgraduate training.
Services
Human immunodeficiency virus (HIV) infection
Viral hepatitis, including hepatitis B and C virus infection
Bone and soft tissue infections
Outpatient Parenteral Antimicrobial Therapy (OPAT)
Sexually transmitted infections
Infections in organ transplant recipients
Infections in the returning traveller
Recurrent infections and immunodeficiency
WALK-IN STI TESTING – 3 WEEKS ONLY
Due to a recent rise in syphilis cases, walk in STI testing is available in Suite 5 at St Vincent's University Hospital for the dates below. No prior booking is required.
Clinic Dates (08:30-12:30 and 13:30-16:00)
Friday 16th July 2021
Friday 23rd July 2021
Friday 30th July 2021
SVUH Post Covid Clinic Referral Form
Directions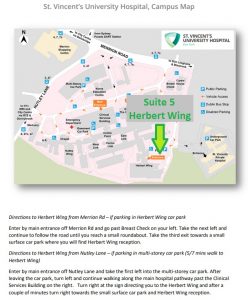 Consultants
Clinics
Referral Information
We accept consultant and GP referrals to our outpatient department. Please address referrals to Department of Infectious Diseases, St. Vincent's University Hospital, Elm Park, Dublin 4.
Useful Links
Contact
tel:  (01) 2213363
fax:  (01) 2213331
Location
1st Floor
Clinical Services Building
St. Vincent's University Hospital
Elm Park
Dublin 4
Opening Hours
Mon to Fri: 08.30 – 17.00