Social Work Department
From the initial stage of admission until your discharge, the Department of Medical Social Work supports you and your families emotional and social well-being. The impact of your illness on both you and your family, may result in a sense of helplessness, vulnerability, isolation or perhaps you may feel overwhelmed by the whole process. We offer a range of specific services which best address your needs and those of your family, in a professional, practical and holistic manner.
Our services
Counselling
Emotional support and counselling where appropriate, which includes focusing on adjustment and coping strategies relating to life crisis such as serious illness/ trauma or bereavement.
Crisis intervention
Practical support or counselling interventions at the time of an acute crisis such as death, admission to the Intensive Care Unit or the Emergency Department.
HSE support
Assistance and support with the HSE processes including long-term care, such as the Fair Deal scheme or Home Care Packages.
Advocacy
Liaising with statutory and voluntary services for you and your family in areas such as homelessness, respite care, addiction issues, and mental health services.
Practical / Legal
Guiding patients and their families towards the appropriate services with due regard to relevant legislation and policies such as the Assisted Decision-Making Capacity Act and Nursing Home Support Scheme.
Patient safety
We ensure the safety and protection of any patient identified by the hospital staff to be at risk of physical, sexual, emotional, or financial abuse or neglect.
Referral information
Our services are available to any patient or family who attends St. Vincent's University Hospital. Referrals can be made on request by the patient's medical or nursing team.
CLIMB – Direct work with children after a parent/guardian diagnosis of cancer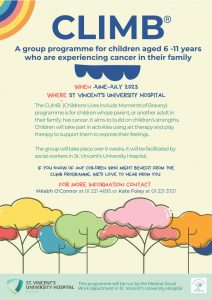 Medical Social Work (MSW) Department is delighted to introduce CLIMB to the hospital. The CLIMB (Childrens Lives Include Moments of Bravery) programme was founded by The Children's Treehouse Foundation in 2001 in Colorado. It is a programme for children aged 5 to 12 who are experiencing the impact of a parent's, other significant adult's or a brother or sister's cancer diagnosis. The programme is run over 6 weeks and aims to build upon the child's strengths and increase their ability to cope with stress associated with their parent's illness. Through group activities, small groups of children engage in art therapy and play therapy as tools to enable them to express their feelings.
When working with patients who have a cancer diagnosis, the Medical Social Work Department is mindful that their children may find adjusting to and coping with the diagnosis overwhelming. Our team can provide support in explaining the process of cancer diagnosis to them.
We work collaboratively with the NCCP on this programme, which is facilitated by our Medical Social Workers.
Bereavement Support
The death of a loved one can be a painful and devastating experience, we help you to come to terms with the new reality of your grief and loss, by providing support for families of the deceased. This includes an Annual Bereavement programme offering a positive forum to support bereaved families.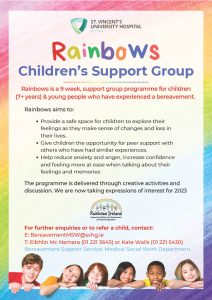 In addition to our Annual Bereavement programme, SVUH is delighted to announce that it is introducing Rainbows to children of parents/guardians who have been bereaved. 
Rainbows is an inclusive service, which is facilitated by our Department and is run in a group setting over a nine-week period supporting children and young people between the ages of 7-18 years old who are experiencing grief and loss, resulting from bereavement of a parent or guardian in the hospital. Children who attend this programme can meet with other children of similar age and loss experience. Children very often do not have the language to express their feelings around their grief and loss. The Rainbows programme supports the child/young person to understand, express, acknowledge and share their grief and emotions in a safe and controlled environment.
Rainbows is a referral service and you can also self-refer. If you would like your child to attend, please email BereavementMSW@svhg.ie<mailto:BereavementMSW@svhg.ie
Please note: The Department of Medical Social Work does not deal directly with any social welfare claims or enquiries.  Instead, we advise that you contact your local Social Welfare Office or Citizens Information Centre.
Other useful contact details
Citizen Information
Nursing Home Support Scheme: Dublin, Wicklow and Kildare
Health Services Executive
Dublin City Council
Samaritans
Citizens Information
Useful links
Contact
tel:  (01) 221 4286 / 4831
fax:  (01) 221 4832
Location
Ground Floor
Herbert Link Corridor
St.Vincent's University Hospital
Elm Park
Dublin 4
Opening Hours
Mon to Fri:  09.00 – 17.00