Nutrition and Dietetics
The Department of Nutrition and Dietetics provides nutrition support and counselling to inpatients, outpatients and those attending day care in St. Vincent's University Hospital.
We aim to provide evidence-based nutritional support and nutritional counselling as part of our multidisciplinary approach to patient care, encouraging patients to become involved in managing their care.
We use the most up-to-date public health and scientific research on food, health and disease which we translate into a practical guide to help people make the appropriate lifestyle and food choices for their health and well-being.
Services
Dietitians attend multidisciplinary clinics such as diabetes, cystic fibrosis, heart failure, mental health, renal, liver and pancreatic cancer clinics. General outpatient consultations are by appointment only. During COVID-19 restrictions most appointments are by phone or video calls.
Patients admitted to St. Vincent's University Hospital are nutritionally screened using Malnutrition Universal Screening Tool (MUST). Those scoring two or higher are referred to the Dietitian. You can check your risk of malnutrition by completing this screening tool here.
One of the main roles of dietitians in the hospital is to work as part of the healthcare team to provide nutritional care to patients who are malnourished or at risk of malnutrition. Find out more about malnutrition, how to prevent it and who is at risk by reading our frequently asked questions here.
For information on how nutrition can support your recovery from COVID-19 please see this webpage or if you are currently sick with COVID-19 please see our resources here.
We work in collaboration with the Catering department to ensure the hospital menus meet the nutritional targets outlined in the Food, Nutrition and Hydration Policy – for Adult Patients in Acute Hospitals (2018). Please see this webpage.
Referral information
We accept referrals for patients under the care of a consultant in the hospital only. Where appropriate, patients may be referred or care transferred to community dietetic services for weight management programme and type 2 diabetes management programme (Discover Diabetes) as well as care for risk of malnutrition and home enteral feeding.
Useful links
Community dietetic services
Education for People with Type 2 Diabetes
Discover diabetes
Discover diabetes is a free HSE community run 5 week program – 1.5hrs a week. Currently due to Covid-19 restrictions the courses are running online using WebEx video call software. You will need a laptop or a smart phone.
Topics: Understand your diabetes, identify how food and lifestyle can affect your Diabetes, prevent/ reduced diabetes-rated health problems, manage your weight, and improve your overall health
To register contact: 01-2744360 or 1850 24 1850 or email hselive@hse.ie or complete online booking form https://register.enthuse.com/ps/event/DiabetesSupportCourse
Diabetes SMART
A free 55minute online education course developed by diabetes Ireland and Trinity College, for people diagnosed with type 2 diabetes.
Topics: Diabetes Explained, Health Complications, Healthy Eating, Exercise and Diabetes Education.
Log in to http://www.diabeteseducation.ie/ and create and account. You can watch at your own pace.
For more information call 01-8428112 or 021-4274229 or email info@diabetes.ie
CODE
CODE is Diabetes Ireland's group education program for people with Type 2 Diabetes or with a diagnosis of prediabetes. The program can now be done online and is free of charge.
Topics: Diabetes Explained, Signs & Symptoms, Carbohydrate & Portion Advice, Personal Goal Setting, Managing Your Glucose Levels, Risk Factors, Healthy Eating, Physical Activity
To register your interest, fill out the online application here.
Your fluid needs with kidney disease – educational video

Recent publications
by Dietetic staff of St Vincent's University Hospital
Neil Bibby, Oonagh Griffin. Nutritional considerations for the management of the older person with hepato-pancreatico-biliary malignancy. European Journal of Surgical Oncology, Vol 47, Issue 3, Part A, 2021, Pg. 533-538, ISSN 0748-7983, https://doi.org/10.1016/j.ejso.2020.04.024.
(https://www.sciencedirect.com/science/article/pii/S0748798320304212)
Abstract: Malnutrition and cancer cachexia are prevalent in older people with hepato-pancreatico-biliary (HPB) malignancy, with the resultant loss of muscle mass and function accelerating normal age-associated losses. Unintentional weight loss may be missed in patients with pre-illness obesity, delaying diagnosis and limiting treatment potential and access. Sarcopenia and/or sarcopenic obesity increase the risk of dose-limiting chemotherapy toxicity, post-operative mortality and overall survival. The aetiology of malnutrition and weight loss is multi-factorial in patients with HPB malignancy, necessitating systematic evaluation of endocrine and exocrine function, and multi-modal therapeutic strategies. Prehabilitation aims to reduce the complications and side effects associated with treatment, aid recovery and improve quality of life, with the greatest benefits potentially being seen in high risk groups, such as people who are older and frail. Post-operatively, individualised nutritional support therapies targeting the preservation of weight and muscle indices are required to improve post-operative morbidity, and avoid delay or early cessation of any necessary adjuvant therapy.
Amy Mullee, PhD1; Aidan O'Donoghue, RD2,3; Pauline U´ı Dhuibhir, RGN, MSc2,4; Niamh O'Donoghue, MB, BCh, BAO, PhD3; Deirdre Burke, RD5; Veronica McSharry, RD6; Gillian Stewart, RD7; Louise Casey, RD8; Yvonne Donnelly, RD9; Julie Gallagher, RD10; Kiera Higgins, RD10; Fiona Roulston, RD9; Michelle Barrett, RGN, MSc2; Clare A. Corish, RD, PhD1,11; and Declan Walsh, MB, BCh, MSC2,3,12 Diet and Nutrition Advice After a Solid Tumour Diagnosis. DOI:10.1200/OP.20.00685 JCO Oncology Practice. Published online February 17, 2021. PMID: 33596097
Abstract
PURPOSE:
Credible evidence-based diet and nutrition advice is essential for patients with cancer. This study aimed to explore what advice patients with cancer obtained before a formal dietetic visit.
METHODS:
A multicenter, observational study was conducted in seven hospital-based oncology services. Consecutive patients were recruited at first dietetic assessment. In addition to routine dietetic assessment, participants completed a four-item questionnaire describing diet and nutrition advice obtained since diagnosis.
RESULTS:
Seventy-seven patients participated. More than 80% had multiple nutrition-impact symptoms. In total, 53 (69%) obtained advice from professional and nonprofessional sources before dietetic visit. Family and friends were the most common sources of advice. More than one third got advice from (non-dietetic) healthcare professionals. Most advice related to "foods to include" (61%) and "foods to avoid" (54%) in the diet. Many of the "foods to avoid" were important sources of micro- and macronutrients. Advice about dietary supplements (31%) and specific diets (28%) was common, rarely evidence-based, and frequently contradictory. Participants found it difficult to discern what advice was trustworthy and reliable. Despite this, most followed the advice.
CONCLUSION:
The majority of patients received diet and nutrition advice before first dietetic visit. Most of this came from nonprofessional sources. Any advice from non-dietetic healthcare professionals was inconsistent or vague. This was mainly related to the avoidance and/or inclusion of particular foods and was often contradictory. Nevertheless, patients usually followed such advice fully. To help manage their frequent nutrition-impact symptoms and resolve the contradictory advice they had received, many expressed the need for earlier professional dietetic consultation
Poster presentation at the INDI Research Seminar 2021, by Ms. Sinead Cahillane, Ms. Leah Palado and Prof Kevin Conlon.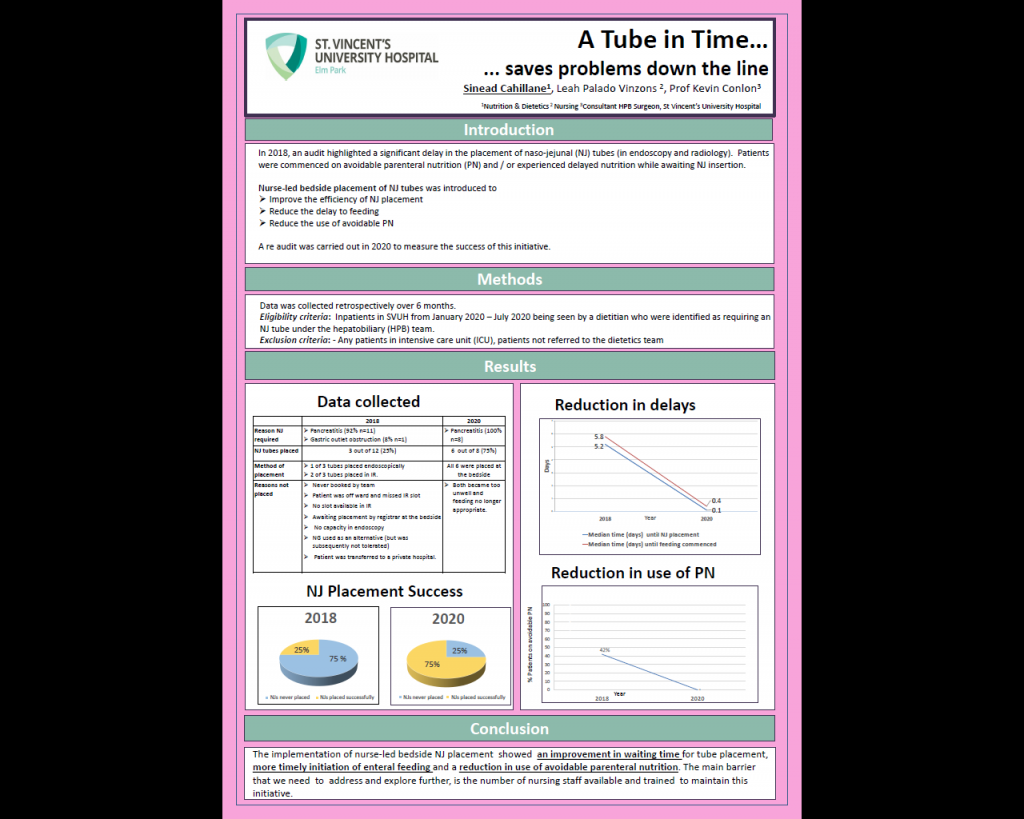 Contact
Dietitian Manager, Liz Barnes
email:  l.barnes@st-vincents.ie
tel:       (01) 221 4724
Department Administrator – Lorraine Sewell
email:  lsewell@svhg.ie
tel:       (01) 221 4225
fax:      (01) 221 5339
Opening Hours
Mon to Fri: 08.30 – 17.00