First Schwartz Rounds at St. Vincent's University Hospital: A Resounding Success in Fostering Empathy and Compassion in Healthcare
10th June 2023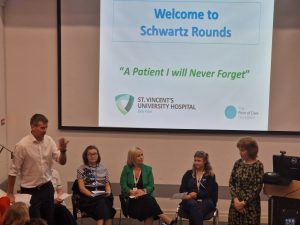 St. Vincent's University Hospital proudly hosted its inaugural Schwartz Rounds on the 8th June, marking a significant milestone in cultivating a culture of empathy and compassion within the hospital. The event, centred on the theme "A patient I will never forget", provided a powerful platform for our staff to share their stories and reflections.
Schwartz Rounds, originally developed at the Schwartz Centre for Compassionate Healthcare, aim to create a safe and supportive space for caregivers to explore the emotional impact of their work. By sharing their experiences, panellists and attendees gain valuable insights into the profound connections formed with patients and their families.
The first Schwartz Rounds at St. Vincent's University Hospital featured a diverse panel of four staff, including Interim CEO, Michele Tait. Each member courageously shared their personal narratives, which gave an intimate look into the experiences that have left a lasting impression on their hearts and minds.
We extend our sincere gratitude to our remarkable panellists who shared their stories, bringing empathy and compassion to life through their words. Their willingness to be vulnerable and open has touched the hearts of all who attended.
We also express our deepest appreciation to our dedicated organisers who worked tirelessly to make this event a resounding success. Their commitment to fostering a culture of compassion within our hospital is truly commendable.
The event featured engaging discussions and meaningful exchanges, reminding us of the profound impact our work has on the lives of those we care for. The stories shared served as a poignant reminder of the privilege and responsibility we hold as healthcare professionals.
The Schwartz Rounds at St. Vincent's University Hospital were met with overwhelming attendance, and we are incredibly grateful to all who participated. The collective energy and compassion in the room were truly inspiring, reinforcing our commitment to delivering exceptional care and support to our patients and their families.
As we reflect on the success of the first Schwartz Rounds, we look forward to future gatherings that will further strengthen the bonds within our healthcare community. By continuing to share our stories and experiences, we can enhance our capacity for empathy, compassion, and understanding.​
Patient and Visitor Handbook
Our handbook contains all the important information you need when visiting our hospital whether you are a patient or a visitor.
Travelling to and from the hospital
Elective admission information
Emergency Department attendance
Patient safety information
Information on what we will do to get you home
Data protection
Security information
Infection control policy
No smoking policy
Visiting arrangements
Daffodil Centre
St. Vincent's Foundation