Inaugural Launch of St. Vincent's University Hospital Staff Recognition Awards: Recognising Excellence and Fostering Innovation
5th July 2023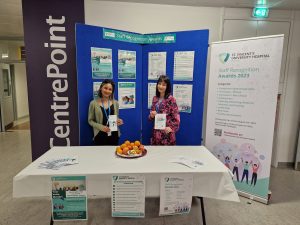 St. Vincent's University Hospital is proud to announce the inaugural launch of its Staff Recognition Awards, a prestigious event that will celebrate the exceptional achievements of our dedicated staff members. The awards aim to recognise excellence and foster innovation within our hospital community, while acknowledging the remarkable contributions that drive our organisation's success.
The Staff Recognition Awards ceremony will take place on the 6th of October 2023 at the Talbot Hotel Stillorgan. This special occasion will bring together our talented staff members, leaders, and stakeholders to honour those who consistently go above and beyond, inspiring excellence and driving positive change.
Professor Michael Keane, Interim CEO of St. Vincent's University Hospital, shared his enthusiasm for the upcoming event, stating, "The Staff Recognition Awards highlight our commitment to acknowledging and celebrating the outstanding contributions of our staff members. This inaugural ceremony allows us to shine a well-deserved spotlight on those who consistently demonstrate excellence and innovation, enriching the lives of our patients and colleagues."
The Staff Recognition Awards will feature eight categories, each designed to honour specific areas of expertise and achievement. The categories and their respective titles are as follows:
Exceptional Patient Experience Award: Celebrating Extraordinary Care and Compassion
Clinical Area Innovation Award: Celebrating Creativity and Impactful Change
Non-Clinical Area Innovation Award: Celebrating Visionary Thinking and Impactful Change
Unsung Hero Award: Celebrating Extraordinary Dedication and Going Above and Beyond
Coaching, Mentoring, Research, Education, and Training Award: Celebrating Outstanding Mentoring and Training in the Hospital Setting
Excellence in Leadership Award: Recognising Inspiring Leaders and Positive Change
Best Team Award: Celebrating Commitment, Innovation, and Inspirational Leadership
Quality Improvement Award: Celebrating Collaborative Efforts and Positive Impact
Nominations for the Staff Recognition Awards are now open*. We invite all staff members to visit www.healthawards.ie/st-vincents-hospital to submit nominations for their deserving colleagues and to access further information about the awards.
Join us in recognising and celebrating the outstanding achievements of our staff members at St. Vincent's University Hospital. Together, we can continue to inspire excellence, foster innovation, and provide exceptional care to our patients and community.
*Please note that the awards are an internal recognition programme and are not open to the public for voting.
Patient and Visitor Handbook
Our handbook contains all the important information you need when visiting our hospital whether you are a patient or a visitor.
Travelling to and from the hospital
Elective admission information
Emergency Department attendance
Patient safety information
Information on what we will do to get you home
Data protection
Security information
Infection control policy
No smoking policy
Visiting arrangements
Daffodil Centre
St. Vincent's Foundation