'Run Mom Home' SVUH to Arklow run in memory of Marian Redmond in aid of Cancer Care
15th April 2023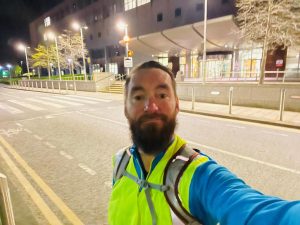 This morning at 4.45am, Damy Redmond and Laoise Traynor set-off on a 75km run from SVUH to Arklow in memory of Damy's Mam & Laoise's mother-in-law, Marian Redmond who passed away from cancer in the hospital on the 15th October, exactly 6 months ago at 4.45am. Their goal is to run to Marian's house in Arklow, totalling 75km (46.6 miles), to "run their mam home". Damy's sister Lisa, his husband Alan and Shona, Marian's only grandchild will be following behind in a van throughout doing up to ten rest-stops, supporting logistics, providing refreshments and whatever else is needed, and may even join in and run and/or cycle with them. They are hoping to reach Arklow by afternoon. There will be bucket collections the whole way there and also a QR code available to the donate link.
Damy, Lisa and Laoise have also set-up an idonate page to help raise funds to assist families, who like themselves, find themselves closely affected by cancer. They said they knew nothing beforehand, went into the journey of cancer completely blind and were walking around in a daze most of the time watching their beloved Mam suffer, which was a horrific experience for them. They can't change what families have to go through but they selflessly want to help in any way they can to help make families' journeys that little bit easier.
Having spent countless days and nights sitting and sleeping in hospital chairs, while eating sandwiches, popcorn and chocolate, they want to raise money to help make the experience more comfortable for families. By purchasing items such as a microwave for the ward, so people can make food and also some special pull-out beds for families to sleep in to give people a better night's sleep which in turn, may help them cope that little bit better with what they are going through.
They said that their beloved Mam, Marian always felt guilty about them being there and being uncomfortable. She would tell them to go home even though she wanted them to stay. They feel that by raising money to purchase such items, it may help alleviate some of a patient's guilt and worry around the amount of time their family members stay, especially for long-term patients, while also giving families a little more home comforts.
Initially, their target was €5k and they are overwhelmed by the response received and the generosity of everyone who has donated. To date, Damy, Lisa & Laoise have raised over €15,000 and they are hoping to reach €20,000. To donate, please visit: idonate.ie/fundraiser/MarianRedmond
Here, Lisa and Damy bravely share their personal story through cancer and tell us why they are raising funds to help families of cancer patients and why it means so much to them.
"Our Mam was first diagnosed with breast cancer in Sept 2018, which also spread to her lymph nodes. As a result she had to have 12 lymph nodes and a large portion of her breast removed. She also got PCP pneumonia in Dec 2018, which she wasn't expected to survive. That meant she was too ill to have any more chemotherapy at the time, which she needed. As a result, we always knew it was going to come back and that we were living on borrowed time.
From the outset, she told us no doom and gloom but we have to acknowledge her cancer battle. Her cancer was so aggressive, fierce and stubborn and should have killed her long before it did but our Mam was fiercer and more stubborn than the cancer was. We were blessed that her consultant, Dr Clare Andrews was just as stubborn as Mam was. Just like Mam, she never gave up, at every hurdle she would research and push until she found another new drug or new treatment. Many would have thrown the towel in but she kept saying that Mam was too young and deserved every chance at living. In Mam's final days she miraculously found another new drug but unfortunately it just wasn't meant to be. Her drive to keep Mam here matched Mam's will to live. Together, they were a tag team trying to slay an almighty beast. We can never thank Clare and her team enough, especially Katie, Stuart, Liam, Sarah, Noirin, Joy and a huge thank you also to Karen Murphy. Their compassion, kindness and desire to keep Mam alive was immense.
We'd regularly appear in St. Anne's Ward and send for Dr Clare Andrews. Honestly, the poor woman nearly had to take out a restraining order because we pestered her so much. Her patience and kindness was extraordinary. She'd arrive and ask Mam how she was, Mam's standard answer would be, 'sure I'm grand'. As usual we'd be beside her saying she wasn't and pointing out things like, one of her body parts was twice the size as it should be, she was turning yellow, covered in a rash, hadn't eaten in weeks and every time Mam would come out with something like, sure it's just because I ate a gone off bar of Aero in 1992 or, I slept funny, I'm allergic to the hand soap, I'd too many blankets on the bed, I stubbed me toe and our favourite of all time, sure it's only a little lump.
Mam's will to live was so strong. She was dealt a pretty desperate hand but she repeatedly defied the odds because she never wanted to leave us and because she was an absolute badass Mam in every way. Her journey over the last four years was hard and she suffered a great deal but she never gave up, her spirit never broke and she always had a smile on her face. After every set back, she'd dust herself off and go again.
With treatment and the dedicated care of staff at SVUH, Mam's condition initially improved so much so that she went into remission. Unfortunately, the cancer returned at the end of 2021 as B-cell lymphoma, which was very aggressive, entering her lymph nodes, yet even then she continued to fight it. She was on a heavy, complex treatment plan where at times, to the best of our memory, she would have chemo for 24 hours for three days but within 10-12 days, the cancer would be back. Her body was ravaged and it was so painful for us to watch.
During all this time, SVUH almost became like a second home for us, especially St. Anne's Ward during Mam's final eight months and St Monica's Ward for her final weeks. So many incredible staff played a huge part in making Mam's life that little bit brighter. We will never be able to thank everyone enough – the consultants, doctors, nurses, porters, catering team, healthcare assistants, everyone who helped care for our Mam along the way, all played a part in making her hospital life and ours a little brighter. We wouldn't have gotten through it without them. Mam loved their care and kindness, both to her and to us, it will never be forgotten.
It's important to mention, Mam was sick during Covid-19, and with visiting restrictions, it meant we couldn't go and see her. Staff were so caring not just to Mam but to all of us too. They checked-in with her constantly and gave her great comfort if she was having a bad day. This meant the world to us and made life that bit easier for us all, honestly the staff couldn't have been any better.
We know it sounds weird but we had so many good times and laughed so much throughout Mam's illness. We've learned to live in the moment, keep hope, to never give up and to find the rainbow in every storm. She always stayed positive and optimistic. Our Mam fought so hard to stay with us and we are so proud of her. She was fierce, brave and courageous. All she wanted was for us to be happy, stick together and look after each other, which we promise to do. Our Mam was everything we needed and so much more. Not everyone gets to die a hero but our Mam definitely did.
Her final battle lasted about 10 months, during which time we always expected the worst, but when the end came it came suddenly and we weren't able to grant her wish to return home before she died peacefully in our arms in SVUH, so we want to do it for her now."
You can follow their progress on Instagram @mightymarian54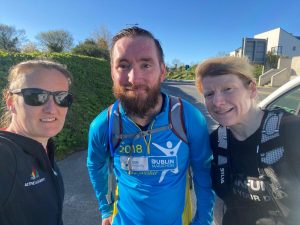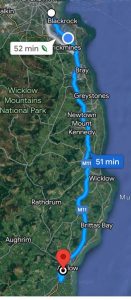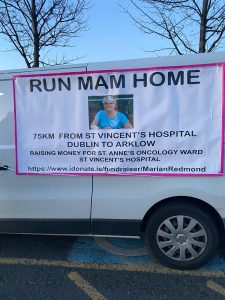 About Cancer Care at SVUH
St. Vincent's University Hospital (SVUH) is a centre of excellence for cancer care, one of eight nationally designated adult cancer centres and is the nationally designated centre for neuroendocrine tumours (NET), pancreatic cancer and sarcoma. The hospital is also one of the largest providers of care for patients with breast, prostate, colorectal, lung and gynae cancer and is one of three adult stem cell transplant centres in the country.
SVUH has a long tradition of cancer research. The recent Cancer Clinical Trial Research Infrastructure Funding award to the UCD Clinical Research Centre, by the Health Research Board, will enhance and expand cancer research at the hospital.
Patient and Visitor Handbook
Our handbook contains all the important information you need when visiting our hospital whether you are a patient or a visitor.
Travelling to and from the hospital
Elective admission information
Emergency Department attendance
Patient safety information
Information on what we will do to get you home
Data protection
Security information
Infection control policy
No smoking policy
Visiting arrangements
Daffodil Centre
St. Vincent's Foundation