St. Vincent's Healthcare Group Hosts Graduation Ceremony for Newly Qualified UCD Nursing Graduates
7th December 2016
On the 6th December, St. Vincent's Healthcare Group (SVHG) hosted their first ever group nursing graduation ceremony in the Tara Towers Hotel, with over 87 newly qualified nurses graduating. All of the graduates qualified with a Bachelor of Nursing Science Degree from University College Dublin (UCD).
These newly qualified nurses completed a four year degree in UCD. During that time each student nurse completed rotations between the 3 sites in the St. Vincent's Healthcare Group (SVHG) – St. Vincent's University Hospital (SVUH), St. Vincent's Private Hospital (SVPH) and St. Michael's Hospital (SMH) in Dunlaoghaire. These rotations facilitated the students to gain nursing experience in a level 2 and level 4 acute hospital setting and within the private healthcare sector.
At, today's ceremony, four students were presented with an award by SVHG for the best poster presentation, from their final year Evidence Based Practice module:
Alison Breen-Slattery – BSc (Nursing) General – "In type 1 Diabetics, how does continuous subcutaneous insulin infusion (CSII) compare to multiple daily injections (MDI), affect glycaemic control?"
Emma Murphy – BSc (Nursing) General – "In colorectal cancer patients, how is the quality of life perceived following stoma formation"
Anne Feehan – BSc (Nursing) General – "How effective is therapeutic footwear in the prevention of foot ulceration in high risk Diabetic patients?"
Beth Ni Mhaonaigh – BSc (Nursing) Children's & General: "Is breastfeeding an effective non-pharmological intervention for managing procedural pain in infants?"
Final year Nursing Student, Laura O'Toole (BSc Nursing) was highly commended in the Undergraduate Awards this year. This is a prestigious international awards programme, and is the largest awarding body of its type in the world. Undergraduate Awards aim to celebrate the worlds' brightest and most innovative Undergraduate students, recognising their best coursework and projects. The programme is under the patronage of President of Ireland, Michael D. Higgins, since February 2012.
Speaking at the awards, Ann Flynn Director of Nursing at SVUH said:
"I was delighted to host this year's SVHG Nursing Graduation. It is with great pride that we celebrate our latest newly qualified nurses' formal  graduation and hospital badge ceremony. It marks an important stepping stone in their nursing careers and I look forward to meeting the newly qualified nurses over the next number of weeks."
In 2016 a total of 70 new graduates were recruited to SVUH – one of the largest supporters of graduate entry nurses in the country.
A great proportion of our own graduates choose to return to SVUH
We also welcomed new graduates from Dundalk, Galway, and Cork
A number of other graduates were recruited from the United Kingdom; London, Cambridge and Chelmsford and as far afield as Italy!
We welcome all new nursing staff to St. Vincent's Hospital Group and wish them a long and happy career within the health service. One of the key opportunities staff can avail of within the hospital is our commitment and focus on continuing professional development. This ranges from local clinical short courses, level eight, postgraduate and masters programmes.
SVUH continues to enjoy successful collaboration with our university partners, UCD, by providing quality undergraduate and post graduate clinical learning,  and by leading on innovation and research in the field of Nursing and interdisciplinary practice.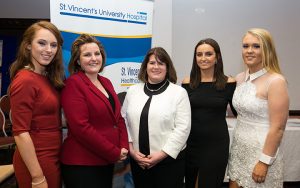 Issued 7th December 2016
Patient and Visitor Handbook
Our handbook contains all the important information you need when visiting our hospital whether you are a patient or a visitor.
Travelling to and from the hospital
Elective admission information
Emergency Department attendance
Patient safety information
Information on what we will do to get you home
Data protection
Security information
Infection control policy
No smoking policy
Visiting arrangements
Daffodil Centre
St. Vincent's Foundation