St. Vincent's University Hospital calls for more individuals to become Organ Donors on the 60th anniversary year of transplantation in Ireland and Organ Donor Awareness Week
26th May 2023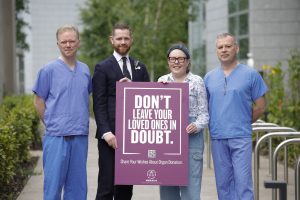 –          The first kidney transplant took place at the old St. Vincent's Hospital
on St. Stephen's Green, Dublin in 1963 –
As Organ Donor Awareness Week draws to a close, St. Vincent's University Hospital (SVUH), one of the world's leading academic teaching hospitals dedicated to providing excellence in healthcare services, is taking the opportunity of the 60th anniversary year of transplantation in Ireland to urge everyone to consider the profound impact they can make by becoming an organ donor. By making this selfless decision, individuals have the power to give someone a second chance at life, restore hope to families, and create a lasting legacy of kindness and generosity.
Organ transplantation has been transforming and saving lives in Ireland for the past six decades, with currently over 5,000 people in Ireland enjoying extended life because of organ donation and transplantation. However, there is an ongoing shortage of organs, leading to long waiting lists and devastating consequences for patients in need. At any one time, there are approximately 600 people active on waiting lists for organ transplants including heart, lung, liver, kidney and pancreas in Ireland. SVUH, along with other healthcare providers, is working tirelessly to improve access to transplantation, but this effort relies on the generosity and compassion of individuals willing to donate.
Becoming an organ donor is a straightforward process. Interested individuals can request an organ donor card www.ika.ie/get-a-donor-card, and are encouraged to share their wishes to their loved ones, and ensure that their decision to donate is known. By taking these steps, individuals can contribute to the tremendous impact of transplantation and help meet the growing demand for life-saving organs.
Dr. Tom Gallagher, Consultant HPB (Hepato-Pancreato-Biliary), Pancreatic and Liver Transplant Surgeon at SVUH emphasises the significance of this call to action, stating "As we celebrate 60 years of transplantation in Ireland, we recognise the incredible advancements that have been made and the countless lives that have been saved. However, the need for organ donors remains urgent and the demand for organs far outweighs the supply, leading to long waiting lists and heart-breaking outcomes for many. Every day, countless lives hang in the balance as patients wait for life-saving transplants. As a Transplant Surgeon, I witness the profound impact that organ donation has on patients and their families."
Rachel O'Hora (40), from Bohola, Co. Mayo and now living in Blackrock, Co Dublin underwent a vital transplant in SVUH in the last year. Ms O'Hora said "I am incredibly grateful for the gift of life that I received through a combined pancreas and kidney transplant. Organ Donor Awareness Week will now hold a special place in my heart as it gives me the opportunity to express my deep appreciation to the selfless donor and their family who made this life-changing decision. Before my transplant, I faced numerous health challenges and the daily struggles of managing a chronic illness. The transplant not only saved my life but also restored my hope and quality of life. My experience highlights the vital importance of organ donation. I am a living testament to the power of organ donation, and I will forever be grateful to my donor for the gift they have given me. I encourage everyone to reflect on the incredible impact they can make by registering as organ donors and discussing their wishes with their families."
"As a Consultant HPB & Liver Transplant Surgeon, I have witnessed the transformative power of organ donation first-hand", said Dr. Emir Hoti, Consultant HPB & Liver Transplant Surgeon at SVUH. "Approximately 50 – 60 liver transplants and 6 – 8 pancreas transplants are performed here at the hospital every year. Each donated organ has the potential to save a life, restore hope, and bring joy to families in their darkest moments. Organ Donor Awareness Week, which is organised by the Irish Kidney Association in association with Organ Donation Transplant Ireland, is a crucial reminder of the incredible gift we can give to others through our selfless act of donation."
SVUH acknowledges the incredible generosity of organ donors and their families and expresses gratitude for their life-saving contributions. The hospital also commends the ongoing efforts of organisations and advocates dedicated to raising awareness about organ donation. During this special year of commemoration and Organ Donor Awareness Week, SVUH urges individuals to honour the legacy of transplantation in Ireland by sharing their decision to be an organ donor with their family. By doing so, we can ensure that the life-saving impact of transplantation continues to transform and improve the lives of those in need.
–          Ends –
For media inquiries or to schedule an interview with a patient or transplant consultant, please contact: jcotter@svhg.ie
Editor's notes:
2023 marks several important milestones in organ donation and transplantation in SVUH:
The 60thanniversary of the first transplant to take place in Ireland, a kidney transplant for 21-year-old Ted Tobin, from Dublin, which took place at the old St. Vincent's Hospital on St. Stephen's Green.
31 years of pancreas transplantation; the programme began at Beaumont Hospital, founded by transplant surgeon Dr. David Hickey. The programme migrated to St. Vincent's University Hospital in 2016.
The 30thanniversary of Ireland's first liver transplant at St. Vincent's University Hospital.​
Patient and Visitor Handbook
Our handbook contains all the important information you need when visiting our hospital whether you are a patient or a visitor.
Travelling to and from the hospital
Elective admission information
Emergency Department attendance
Patient safety information
Information on what we will do to get you home
Data protection
Security information
Infection control policy
No smoking policy
Visiting arrangements
Daffodil Centre
St. Vincent's Foundation