St. Vincent's University Hospital celebrates International Day of the Nurse
12th May 2023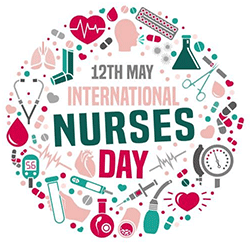 Today, 12th May, St. Vincent's University Hospital (SVUH) is proud to celebrate International Day of the Nurse, a day that recognises the significant contributions and impact that nurses make in healthcare around the world. This year's theme, "Our Nurses, Our Future," highlights the importance of investing in the nursing profession and supporting nurses as they continue to provide essential care and services.
As one of the world's leading academic teaching hospitals providing front line, acute, chronic and emergency care across over 50 different medical specialities, SVUH recognizes and appreciates the hard work, dedication, and commitment of our nurses, who provide compassionate care and support to our patients every day. Our nurses are highly skilled professionals who work tirelessly to provide high-quality, safe, and effective care to our patients.
Investing in nurses means providing them with the support and resources they need to provide the best possible care. At St. Vincent's University Hospital, we strive to provide nurses with a safe working environment, ongoing education and career opportunities working with The University College of Dublin as our academic partner. SVUH has introduced a new care-pathway for overseas nurses whereby the Recruitment Agency comes in to meet with the nurses on the first day of their induction programme. This meeting is also attended by the Director of Nursing and key senior nursing management staff to ensure that any issues, which may arise are promptly dealt with.
Ann Flynn, Director of Nursing at SVUH said,
"As we celebrate International Day of the Nurse, let us remember the selflessness, dedication, and compassion that nurses bring to their work every day. Nurses are the backbone of our healthcare system, and their tireless efforts to care for patients, advocate for their needs, and promote health and wellness are truly remarkable.

I would like to give a special mention to our International nurses, who bring diverse skills and perspectives to nursing, enriching our healthcare system and improving outcomes for patients. I want to acknowledge the unique challenges and sacrifices that they may have faced in pursuing their careers here. Their dedication and resilience in navigating these obstacles are truly admirable. We want to extend our heartfelt gratitude to all our nurses for their tireless efforts and hard work."
International Nurses Day will kick off at SVUH with an opening address by Ms Ann Flynn, Director of Nursing. Rory O'Connor will be here to tell 'Rory's Stories followed by a motivational talk from Paul McNeive. Lunchtime will see a welcome return visit by renowned Irish cellist, director of the Mobile Music Machine and founder of Care Concerts, Gerald Peregrine who will perform a live concert with celebrated artists in the hospital's Atrium on the first floor. A dancing extravaganza by SVUH nursing talent will follow. All hospital nursing and healthcare assistant staff will be entered into a raffle with a chance of winning many great prizes.
The COVID-19 pandemic has demonstrated the critical role that nurses play in our healthcare system. They have been on the front lines, providing care to those affected by the virus and worked relentlessly to keep our communities safe. They have also shown remarkable resilience and adaptability in the face of unprecedented challenges.
However, the pandemic has also highlighted the longstanding issues and challenges facing the nursing profession. These include staffing shortages, rise in cost of living, accommodation shortages and inadequate resources. To ensure that Ireland has a strong and sustainable nursing workforce for the future, it is essential that we address these challenges as a nation and invest in the nursing profession.
As we celebrate International Nurses Day, let us take the time to recognise and thank the nurses who have made such a tremendous difference in our lives. We encourage everyone to take a moment to thank a nurse for their dedication and commitment to making a difference in the lives of patients. Let us also commit to supporting them as they continue to provide essential care and services, and to investing in the nursing profession to ensure a strong and sustainable future.
If you would like to hear from some of our nurses, please watch videos below:
–     Ends     –
For media inquiries, please contact:
Jennie Cotter, Corporate Communications Manager
Email: jcotter@svhg.ie | Mobile: 087 906 2781
About St. Vincent's University Hospital
St. Vincent's University Hospital (SVUH) is one of the world's leading academic teaching hospitals providing front line, acute, chronic and emergency care across over 50 different medical specialities – in the country's only integrated multi-hospital campus.
It is a centre of excellence for cancer care, one of eight nationally designated adult cancer centres and is the nationally designated centre for neuroendocrine tumours (NET), pancreatic cancer and sarcoma. The hospital is also one of the largest providers of care for patients with breast, prostate, colorectal, lung and gynae cancer and is one of three adult stem cell transplant centres in the country.
SVUH is recognised worldwide for setting standards of excellence in clinical diagnosis and treatment, education and research and a pioneering, multi-disciplinary approach to patient care. We are the only public hospital in Ireland with international accreditation.
Our Emergency Department (ED) is the major referral centre for the region for patients with strokes and major trauma. We are home to a number of national centres including the National Centre for Cystic Fibrosis, National Cancer Control Programme (NCCP), National Liver Transplant Programme and the National Pancreas Transplant Programme.
Teaching, education and research are central to everything we do. We are at the international forefront of innovative, translational healthcare 'Bench to Bedside' research with our partners in University College Dublin.  Our Education and Research laboratories complement the work of SVUH clinicians in the diagnosis and treatment of disease areas with over 15 postgraduate students working at any given time.
St.Vincent's University Hospital is part of the St. Vincent's Healthcare Group (SVHG) which also includes St. Vincent's Private Hospital, Elm Park, Dublin 4 and St Michael's Hospital, Dun Laoghaire, Co Dublin.
For further information, please contact Jennie Cotter, Corporate Communications Manager jcotter@svhg.ie
Patient and Visitor Handbook
Our handbook contains all the important information you need when visiting our hospital whether you are a patient or a visitor.
Travelling to and from the hospital
Elective admission information
Emergency Department attendance
Patient safety information
Information on what we will do to get you home
Data protection
Security information
Infection control policy
No smoking policy
Visiting arrangements
Daffodil Centre
St. Vincent's Foundation