St. Vincent's University Hospital Hosts Annual GP Study Day
15th March 2017
St. Vincent's University Hospital (SVUH) held its annual GP Study Day in the Education and Research Centre (ERC) in the hospital on March 5th. The event was a great success with over 180 GPs attending from Dublin City and County. The Study Day was chaired by Dr. Eamonn Molloy, Consultant Rheumatologist and Co-Ordinator of Postgraduate Education, and the event was sponsored by St. Vincent's Healthcare Group (SVHG).
Speaking about the success of the event, Dr. Eamonn Molloy said:
"The annual SVHG GP Study Day is an important event in the SVHG calendar. It facilitates discussion of new clinical initiatives relevant to primary care and the introduction of new consultants to local GPs. It also provides an excellent opportunity for informal interaction between primary care practitioners and hospital-based specialists. While the unprecedented attendance at this years meeting is encouraging, we continue to strive, in collaboration with our GP facilitators, to optimize the educational value of this annual meeting.
A series of thematic lectures were delivered during the morning sessions including:
Laboratory Abnormalities (Dr. Patrick Twomey)
Early Detection of Urogenital Cancer in Males (Mr. David Galvin).
The afternoon session of the Study Day featured a number of interactive workshops on the following topics:
Falls in Older Adults (Dr. Clodagh O'Dwyer)
Assessment of Upper GI Symptoms (Dr. Gareth Horgan)
Neurological Examinations in General Practice (Dr. Justin Kinsella)
Early Diagnosis of Spondyloarthropathy (Prof. Oliver FitzGerald)
Assessment of Concussion (Prof. John Ryan)
Chronic Kidney Disease (Dr. John Holian).
Professor John Ryan, Consultant in Emergency Medicine at St. Vincent's University Hospital, commented on the interactive workshops:
"Our hospital's leading Consultants had the opportunity to share invaluable medical advice with local GPs on areas of critical medical importance, including falls in the elderly, assessment of concussion and a variety of other clinical problems. The workshops gave GPs the opportunity to ask questions about the challenges they encounter when diagnosing patients with acute and chronic conditions in the primary care setting. "
Organisers of the event from the Postgraduate Research Centre in the ERC would like to thank all those who attended, and facilitated, on the day, including the many pharmaceutical companies who supported the event (GlaxoSmithKline, MSD (Merck, Sharp & Dohme), VHI Homecare, Novartis, Leo Pharma, Janssen, Teva Pharmaceuticals Ireland, Bayer Healthcare, Mundipharma and Astellas).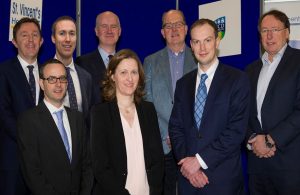 Conference Speakers
L – R Back Row: Dr. John Holian – Consultant Nephrologist, Dr. Eamonn Molloy – Postgraduate Co-Ordinator, Mr. David Galvin – Consultant Urologist, Prof. Oliver FitzGerald – Consultant Rheumatologist.
L- R Front Row: Dr. Gareth Horgan – Consultant Gastroenterologist, Dr. Clodagh O'Dwyer – Consultant Geriatrician, Dr. Justin Kinsella – Consultant Neurologist, Prof. John Ryan – Consultant in Emergency Medicine.
Issued 15th March 2017
Patient and Visitor Handbook
Our handbook contains all the important information you need when visiting our hospital whether you are a patient or a visitor.
Travelling to and from the hospital
Elective admission information
Emergency Department attendance
Patient safety information
Information on what we will do to get you home
Data protection
Security information
Infection control policy
No smoking policy
Visiting arrangements
Daffodil Centre
St. Vincent's Foundation