St. Vincent's University Hospital launches new Primary Liver Cancer Booklet in collaboration with The Irish Cancer Society
16th May 2023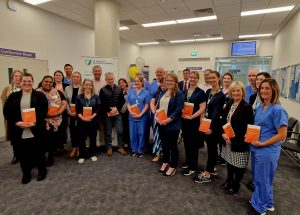 Multidisciplinary Liver Cancer Team at St. Vincent's University Hospital with Michele Tait, Interim Chief Executive Officer; Michele Bourke Advanced Nurse Practitioner for Hepatocellular Carcinoma and Aoife McNamara, Education & Engagement Manager, Irish Cancer Society at the launch of the Primary Liver Cancer Booklet this morning at the hospital.
St. Vincent's University Hospital is proud to announce the launch of a new primary liver cancer booklet in partnership with The Irish Cancer Society. The booklet is designed to help patients and their families better understand primary liver cancer and its treatments.
Primary liver cancer is a serious disease that affects thousands of people each year. It can be difficult to understand and cope with, which is why we created this booklet. It contains valuable information on the treatment options for primary liver cancer, side-effects and how to manage them, coping with the emotional side of cancer and practical and financial matters related to liver cancer.
The booklet was created by leading medical professionals at SVUH and the Irish Cancer Society, ensuring that it contains accurate and relevant information. It also includes advice on self-care, cancer and complimentary therapies and useful resources, providing readers with a comprehensive perspective on the disease.
Speaking at the launch, Mr. Emir Hoti, Consultant HPB and Transplant Surgeon, "As a consultant, I have witnessed first-hand the impact of primary liver cancer on patients and their families. It is a formidable adversary, but through knowledge and support, we can empower those affected by this disease. The launch of this comprehensive booklet, "Understanding Primary Liver Cancer", marks a significant milestone in our collective fight against liver cancer. It is my hope that this resource will serve as a beacon of hope, providing valuable information and guidance to patients, caregivers, and medical professionals alike. Together, we can enhance awareness, foster early detection, and ultimately improve the outcomes for individuals battling primary liver cancer. Let us unite in our mission to conquer this disease and pave the way for brighter, healthier futures."
Aoife Mc Namara, Education and Engagement Manager, Irish Cancer Society said "The Irish Cancer Society is delighted to work with the staff of St Vincent's University Hospital to produce the Understanding Primary Liver Cancer booklet. We believe that people looking for cancer information have a right to reliable, well-produced information that is accurate, relevant and up-to-date. But we cannot do this alone and rely on our specialist reviewers for their expert opinions and extensive clinical experience. We are grateful for the enthusiasm, energy and support we received from our colleagues in SVUH to produce this booklet which will help educate and support patients with primary liver cancer across Ireland."
"We are excited to partner with The Irish Cancer Society and launch this new patient information booklet, which is the first of its kind in Ireland and will help educate patients and their families about primary liver cancer," said Michele Bourke, Advanced Nurse Practitioner for Hepatocellular Carcinoma. "Hearing that you have cancer, any type of cancer, is terrifying for patients and their loved ones. When patients hear the diagnosis for the first time, they rarely take in much of the additional information that's given regarding treatment plans and next steps in their management care pathway. We understand the challenges that come with a cancer diagnosis, and this booklet will allow for more meaningful conversation post diagnosis."
The primary liver cancer booklet is available for free HERE. We encourage everyone who has been affected by primary liver cancer to download and share this valuable resource.
-Ends-
About St. Vincent's University Hospital
St. Vincent's University Hospital (SVUH) is one of the world's leading academic teaching hospitals providing front line, acute, chronic and emergency care across over 50 different medical specialities – in the country's only integrated multi-hospital campus.
It is a centre of excellence for cancer care, one of eight nationally designated adult cancer centres and is the nationally designated centre for neuroendocrine tumours (NET), pancreatic cancer and sarcoma. The hospital is also one of the largest providers of care for patients with breast, prostate, colorectal, lung and gynae cancer and is one of three adult stem cell transplant centres in the country.
SVUH has a long tradition of cancer research. The recent Cancer Clinical Trial Research Infrastructure Funding award to the UCD Clinical Research Centre, by the Health Research Board, will enhance and expand cancer research at the hospital.
We are recognised worldwide for setting standards of excellence in clinical diagnosis and treatment, education and research and a pioneering, multi-disciplinary approach to patient care. We are the only public hospital in Ireland with international accreditation.
Our Emergency Department (ED) is the major referral centre for the region for patients with strokes and major trauma. We are home to a number of national centres including the National Centre for Cystic Fibrosis, National Cancer Control Programme (NCCP), National Liver Transplant Programme and the National Pancreas Transplant Programme.
Teaching, education and research are central to everything we do. We are at the international forefront of innovative, translational healthcare 'Bench to Bedside' research with our partners in University College Dublin.  Our Education and Research laboratories complement the work of SVUH clinicians in the diagnosis and treatment of disease areas with over 15 postgraduate students working at any given time.
St. Vincent's University Hospital is part of the St. Vincent's Healthcare Group (SVHG) which also includes St. Vincent's Private Hospital, Elm Park, Dublin 4 and St Michael's Hospital, Dun Laoghaire, Co Dublin.
For further information, please contact Jennie Cotter, Corporate Communications Manager jcotter@svhg.ie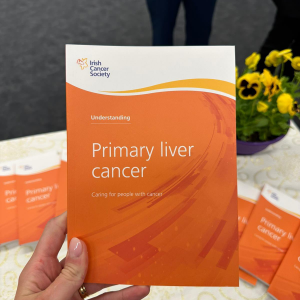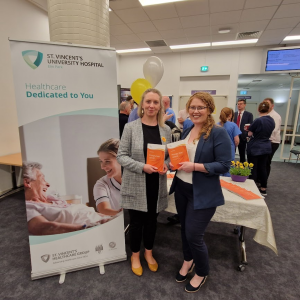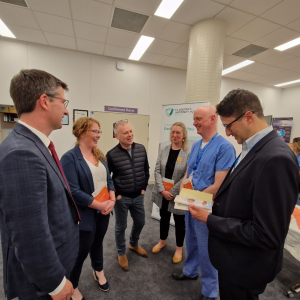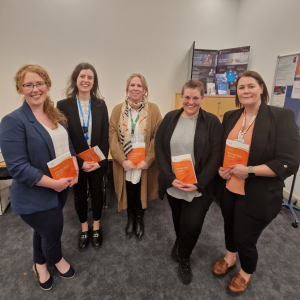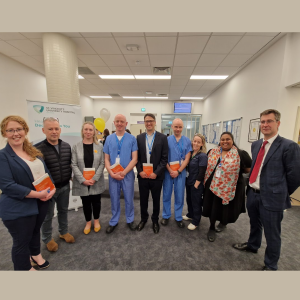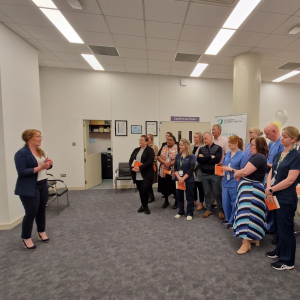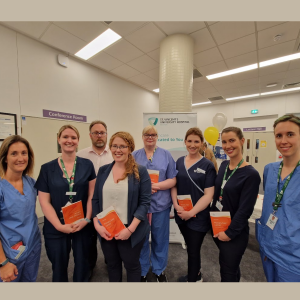 Patient and Visitor Handbook
Our handbook contains all the important information you need when visiting our hospital whether you are a patient or a visitor.
Travelling to and from the hospital
Elective admission information
Emergency Department attendance
Patient safety information
Information on what we will do to get you home
Data protection
Security information
Infection control policy
No smoking policy
Visiting arrangements
Daffodil Centre
St. Vincent's Foundation