St. Vincent's University Hospital Pharmacy Shines at the Hospital Pharmacists' Association of Ireland 2023 Conference
26th June 2023
St. Vincent's University Hospital (SVUH) Pharmacy is delighted to announce its exceptional achievements at the recent Hospital Pharmacists' Association of Ireland 2023 conference. The recognition received by the SVUH Pharmacy team for their research and audit endeavours highlights their commitment to advancing pharmacy practice and patient care.
Sinead O'Mahony, Eimear McManus, and Michael Coughlan, esteemed members of the SVUH Pharmacy team, were awarded first place in the audit poster category for their remarkable work on "An audit of the management of drug interactions associated with nirmatrelvir/ritonavir (Paxlovid™) at a tertiary Dublin Hospital." This prestigious accolade acknowledges their dedication to ensuring the safe and effective management of medications for patients.
In addition, Sinead O'Mahony received high commendation for her MSc research in the service development category. Her study, "Evaluation of the decisions made by clinical pharmacists when charting medication following medication reconciliation in a tertiary hospital," exemplifies her expertise and commitment to advancing pharmacy practice.
Eileen Whittle, another exceptional member of the SVUH Pharmacy team, was awarded first place in the research poster category for her MSc thesis conducted in collaboration with UCC. Her ground-breaking research, "The Role of Medicines Information Services in Ireland in the Education and Development of Early Career Clinical Pharmacists – A Qualitative Interview Study," highlights the pivotal role of medicines information services in fostering the professional growth of early-career clinical pharmacists.
Tadhg Reddan, a renowned expert in aseptic compounding, provided enlightening workshops at the conference. His contributions and knowledge-sharing sessions have significantly advanced pharmaceutical compounding practices, benefiting the wider healthcare community.
Caroline Gallagher, representing SVUH Pharmacy, delivered an insightful presentation titled "Designing. Building & Commissioning a Pharmacy Department at SVUH." Her presentation shed light on the meticulous efforts and expertise invested in establishing a state-of-the-art pharmacy department, showcasing SVUH Pharmacy as a beacon of innovation.
The remarkable achievements of SVUH Pharmacy and its team members would not have been possible without their unwavering dedication and passion for advancing patient care. SVUH Pharmacy extends its gratitude to the Hospital Pharmacists' Association of Ireland for providing a platform to showcase their research and audit initiatives.
As a leader in pharmacy practice, SVUH Pharmacy remains committed to driving excellence, fostering innovation, and making a positive impact on healthcare delivery. The organisation congratulates all team members for their outstanding achievements and looks forward to continuing its journey of excellence in pharmaceutical services.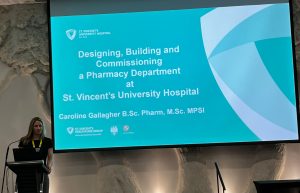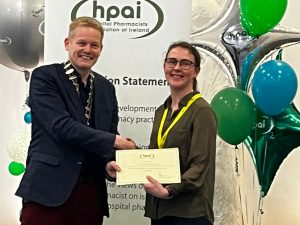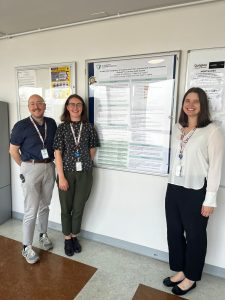 Patient and Visitor Handbook
Our handbook contains all the important information you need when visiting our hospital whether you are a patient or a visitor.
Travelling to and from the hospital
Elective admission information
Emergency Department attendance
Patient safety information
Information on what we will do to get you home
Data protection
Security information
Infection control policy
No smoking policy
Visiting arrangements
Daffodil Centre
St. Vincent's Foundation