St. Vincent's University Hospital successfully granted Joint Commission International (JCI) triennial accreditation
14th November 2016
St. Vincent's University Hospital (SVUH) was successfully granted the status of accreditation based on the findings of the recent Joint Commission International (JCI) Triennial Academic Medical Centre Hospital survey which took place from the 5th to the 9th of September 2016.
The awarding of the triennial accreditation marks the first time an Irish public hospital has achieved this level in the internationally recognised JCI accreditation process. The academic teaching hospital secured the re-accreditation in recognition for their commitment to ensuring the highest standards in the delivery of quality patient care.
The process stimulates continuous systematic and organisation wide improvement in daily performance and in the outcomes of patient care and provides a platform to align the strategic direction and implementation of local and national quality and patient safety initiatives.
Speaking after receiving the award, Professor Michael Keane, Acting CEO of SVUH said:
"The awarding of this most recent triennial accreditation status to St. Vincent's University Hospital ensures that our patients, their families and our stakeholders know that we have one of the safest hospital environments in Ireland with an acute focus on quality and patient safety at the heart of everything we do. It also signifies the 'gold seal of approval' in the international healthcare community and is a true testament to the efforts of all of our staff."
Dr. Alan Smith, Director of Quality and Patient Safety in SVUH said:
"JCI accreditation is considered to be the standard to achieve in global health care. St Vincent's University Hospital was the first acute hospital in Ireland to achieve this award in 2010 and we remain the only acute public hospital to subject the work that we do to this level of independent scrutiny. The experience and impact has been unique, challenging but important to improve outcomes for our patients. We are in a better position to assess our performance and look at areas that we need to improve continuously. All of our staff are to be congratulated for the immense efforts they have put in to achieving this award. "
There are numerous benefits for our patients arising from JCI accreditation including:
An increased focus on patient safety and risk reduction in our clinical care pathways
Fostering of an improved culture of safety at every level and discipline across the organisation
The provision of a safer and more efficient work environment
Compliance to JCI standards enables the organisation to implement and meet HIQA national standards and other external bodies' requirements.
The standards for succeeding in the re-accreditation process are raised continuously due to the surveyors rising expectations. A rigorous onsite evaluation was conducted by a team of four highly skilled healthcare professionals over the course of a five day period.  The JCI  team performed a detailed inspection of the hospital's quality standards, safety practices and procedures.
One of the JCI surveyors commented at the end of the survey:
"When surveying a hospital I ask myself whether or not I would like to be a patient there. And I can honestly say that I would like to be a patient here at St. Vincent's University Hospital."
SVUH and JCI
Joint Commission International (JCI) is an internationally recognised accreditation body,  that has developed a set of international standards and an accreditation programme for hospitals and other healthcare organisations.
The JCI evaluation of a healthcare organisation is designed to be valid, reliable and objective, and the accreditation decision is made by an international accreditation committee. As part of the JCI accreditation programme, every three years JCI re-evaluates the hospital against the following standards:
Patient Centred Standards, which includes the six patient safety goals
Goal 1: Identify Patients Correctly
Goal 2: Improve Effective Communication
Goal 3: Improve the Safety of High-alert Medications
Goal 4: Ensure Correct-site, Correct –procedure, Correct -patient Surgery
Goal 5: Reduce the Risk of Health Care–Associated Infections
Goal 6: Reduce the Risk of Patient Harm Resulting from Falls
Health Care Organisation Management Standards
Academic Medical Centre Hospital Standards
The evaluation involves a comprehensive inspection of the facility, review of practices and procedures, and will look for evidence of sustained compliance and improvement.  SVUH voluntarily applied the JCI standards throughout the hospital and have demonstrated continuous and sustainable improvement in the quality and safety of hospital processes and patient care.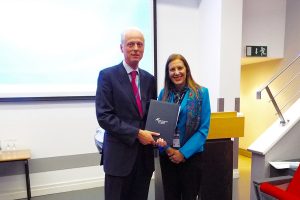 L- R Professor Michael Keane, Acting CEO of St. Vincent's University Hospital and Ms. Sandra Seabra MD Surveyor, Joint Commission International
Issued 14 November 2016
Patient and Visitor Handbook
Our handbook contains all the important information you need when visiting our hospital whether you are a patient or a visitor.
Travelling to and from the hospital
Elective admission information
Emergency Department attendance
Patient safety information
Information on what we will do to get you home
Data protection
Security information
Infection control policy
No smoking policy
Visiting arrangements
Daffodil Centre
St. Vincent's Foundation