St. Vincent's University Hospital to Host Sarcoma Patient Information Day in Collaboration with Irish Sarcoma Group and Sarcoma Cancer Ireland
7th July 2023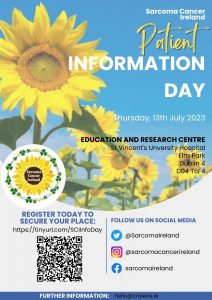 St. Vincent's University Hospital (SVUH) is hosting the annual sarcoma patient information day on Thursday, 13th July 2023 in the Education and Resource Centre on its campus. This is an all-day event organised in collaboration with the Irish Sarcoma Group and Sarcoma Cancer Ireland, with the aim of raising awareness and providing information and education about this rare form of cancer.
The Sarcoma Patient Information Day will bring together leading experts in the field of sarcoma treatment, including orthopaedics, cardio-thoracic, retroperitoneal, medical oncology, radiology, pathology and nursing along with many other distinguished healthcare practitioners.
Ms. Hazel Murray, Ireland's first Advanced Nurse Practitioner dedicated to sarcoma, expressed her delight at hosting the event in SVUH this year.  She said, "We are truly honoured to host the Sarcoma Patient Information Day, which serves as a significant milestone in raising awareness about this often overlooked and misunderstood form of cancer. We are particularly excited to have an impressive line-up of esteemed specialists who will share their knowledge and expertise to empower patients, their families, and the community at large."
Sarcoma Patient Information Day aims to provide a comprehensive understanding of sarcoma, covering various aspects of diagnosis, treatment options, and ongoing research efforts. The event will include informative presentations with Q&A offering attendees an opportunity to engage directly with the experts and gain valuable insights into sarcoma management.
All patients, their families, and staff at St. Vincent's University Hospital are warmly invited to participate in this event. Registration will start at 9.30am in the Education and Resource Centre (ERC) at SVUH. By fostering a sense of community and support, Sarcoma Patient Information Day aims to create a platform where attendees can connect, share experiences, and find solace in the presence of others who understand their journey.
July is recognised as Sarcoma Awareness Month, making this event even more significant in terms of spreading awareness and fostering a supportive community. By hosting this national conference, SVUH reaffirms its commitment to improving the lives of sarcoma patients through specialised care, cutting-edge research, and patient-centred initiatives.
For further information, please contact:
Jennie Cotter, Corporate Communications Manager | email jcotter@svhg.ie | mobile 087 906 2781
Editor's notes:
About St. Vincent's University Hospital: St. Vincent's University Hospital (SVUH) is a world-renowned academic teaching hospital providing comprehensive care across over 50 medical specialties. As a centre of excellence for cancer care, SVUH is nationally designated for neuroendocrine tumours (NET) and pancreatic cancer, and is one of eight designated adult cancer centres in Ireland.
With a strong focus on research, SVUH has a distinguished tradition of cancer research and recently received the Cancer Clinical Trial Research Infrastructure Funding award to further enhance its research capabilities. The hospital is recognised globally for its exceptional standards in clinical diagnosis and treatment, education, and research. It is the only public hospital in Ireland with international accreditation.
The Emergency Department of St. Vincent's University Hospital is the major trauma centre for the South East Dublin region serving a population of over 300,000 and treating over 55,000 emergency admissions every year.
The hospital is home to several national centres, including the National Centre for Cystic Fibrosis, National Cancer Control Programme (NCCP), National Liver Transplant Programme, and the National Pancreas Transplant Programme.
Teaching, education, and research are integral to SVUH's mission, with a strong partnership with University College Dublin. The hospital's Education and Research laboratories facilitate innovative translational healthcare research, with numerous postgraduate students actively engaged in advancing medical knowledge.
St. Vincent's University Hospital is part of the St. Vincent's Healthcare Group (SVHG), which includes St. Vincent's Private Hospital in Elm Park, Dublin 4, and St. Michael's Hospital in Dun Laoghaire, Co Dublin.
About Irish Sarcoma Group: The Irish Sarcoma Group is a dedicated organisation focused on promoting sarcoma research, awareness, and patient support in Ireland. Comprising a multidisciplinary team of healthcare professionals, the group strives to improve sarcoma treatment outcomes through collaboration, education, and advocacy. Irish Sarcoma Group |
About Sarcoma Cancer Ireland: Sarcoma Cancer Ireland is a national charity organisation committed to supporting sarcoma patients and their families in Ireland. The organisation aims to raise awareness, provide information, and fund research initiatives to enhance the understanding and treatment of sarcoma. Sarcoma Cancer Ireland
Patient and Visitor Handbook
Our handbook contains all the important information you need when visiting our hospital whether you are a patient or a visitor.
Travelling to and from the hospital
Elective admission information
Emergency Department attendance
Patient safety information
Information on what we will do to get you home
Data protection
Security information
Infection control policy
No smoking policy
Visiting arrangements
Daffodil Centre
St. Vincent's Foundation