St. Vincent's University Hospital Wins Two National Treatment Purchase Fund (NTPF) Data Quality Awards
25th January 2017
The Clinical Administration Services Management Team in St. Vincent's University Hospital (SVUH) were awarded two National awards by the National Treatment Purchase Fund (NTPF) at the organisation's annual Symposium which was held at the Royal Kilmainham Hospital on the 19th January.
The awards were presented by John Horan, Chairman of the NTPF Board at the afternoon session of the Symposium. SVUH received these data quality awards in recognition for their work on the management of best quality data for the in-patient, day case and out-patient waiting lists.
Cecily Dawson, Clinical Administration Services Manager in SVUH accepted the Outpatient award with her colleague Niamh Gaffney, SVUH Waiting List Coordinator, accepting the Inpatient & Day Case award, on behalf of the hospital. The team worked tirelessly over the last number of years to put the systems in place to achieve this level of recognition by the NTPF.
Speaking after receiving the award, Cecily Dawson, Clinical Administration Services Manager, SVUH said:
"As the Manager for Clinical Administration Services in SVUH, I would like to acknowledge the hard work and dedication of all clinical administration staff, nursing and the contribution made by Lloyd Felton, Deputy Director of our ICT Department in giving us the technological architecture to provide 100% accurate real-time data on our waiting lists."
The criteria for winning the award included;
100% accuracy in the validation and classification of all data submitted
23 individual metrics to be met for all in-patient data supplied
26 metrics for outpatient data to be met
A proven consistent approach to providing good quality data
The hospital's approach to submitted data ensured that;
All data was accurately verified
There were no duplications of data
Start dates were accurately recorded
All file dates were current and up to date (within last 7 days)
All procedures (including specialty procedures) were code compliant
Speaking about St. Vincent's University Hospital's achievement, Professor Michael Keane, Acting CEO of SVUH said:
"This is a huge achievement for our hospital. We are the only acute level 4 hospital to have been recognised for our excellent management of in-patient and day case patient waiting list data quality. The award is in recognition of our hospital's methodical approach to providing validated data which allows for accurate reporting of our current waiting times for our patients."
There were also various other themed sessions at the Symposium including;
A VIP address by Minister for Health, Simon Harris TD
National Treatment Purchase Fund Strategy presentation
Waiting Times Policies in the Health Sector: What Works?
The Business Case for Data Quality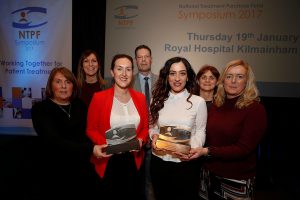 Issued 25th January 2017
Patient and Visitor Handbook
Our handbook contains all the important information you need when visiting our hospital whether you are a patient or a visitor.
Travelling to and from the hospital
Elective admission information
Emergency Department attendance
Patient safety information
Information on what we will do to get you home
Data protection
Security information
Infection control policy
No smoking policy
Visiting arrangements
Daffodil Centre
St. Vincent's Foundation