SVHG 2021 Annual Report Published
20th January 2023
St Vincent's Healthcare Group has published its SVHG Annual Report 2021.
The Group's vision and purpose includes to be known for the highest standards of patient care, clinical excellence, medical research and staff education. Throughout this report are stories from patients who have or continue to receive care in each of our three hospitals from our dedicated staff.
With the transfer of ownership to St Vincent's Holdings CLG, an Irish incorporated company with charitable status completed in 2022, we are entering a new era of patient care and all our efforts will continue to focus on providing our patients with the best possible healthcare through the Group's three hospitals – St Vincent's University Hospital, St Vincent's Private Hospital and St Michael's Hospital Dun Laoghaire.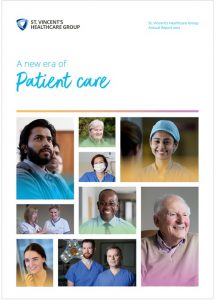 Patient and Visitor Handbook
Our handbook contains all the important information you need when visiting our hospital whether you are a patient or a visitor.
Travelling to and from the hospital
Elective admission information
Emergency Department attendance
Patient safety information
Information on what we will do to get you home
Data protection
Security information
Infection control policy
No smoking policy
Visiting arrangements
Daffodil Centre
St. Vincent's Foundation