SVUH kick starts Dignity at Work campaign in partnership with the University College of Dublin
20th April 2023
We've had a busy day here today at St. Vincent's University Hospital kick starting our Dignity at Work campaign in partnership with the University College of Dublin. 
This year's campaign aims to promote Dignity & Respect in the Workplace by informing and equipping all our students & employees with the skillset to improve workplace relations by showing respect, examining why respect in the workplace is important, changing non-productive relationships/behaviours and managing workplace conflict.
We're really proud of all the hard work and effort that went into preparing our campaign and looking forward to welcoming Inspire Workplace onsite in May to deliver practical staff sessions on Dignity at Work. A special thanks to all for supporting this exciting campaign!
#Dignity #Respect #Postiveworkplacerelations #healthcare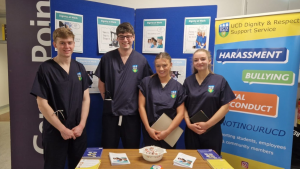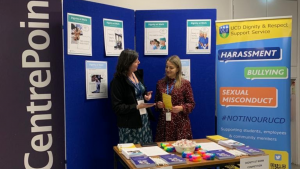 Patient and Visitor Handbook
Our handbook contains all the important information you need when visiting our hospital whether you are a patient or a visitor.
Travelling to and from the hospital
Elective admission information
Emergency Department attendance
Patient safety information
Information on what we will do to get you home
Data protection
Security information
Infection control policy
No smoking policy
Visiting arrangements
Daffodil Centre
St. Vincent's Foundation