SVUH launches new Order Communications System in the Emergency Department
10th May 2023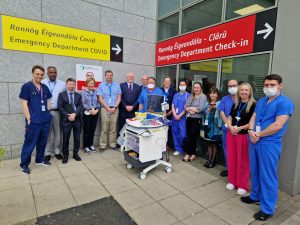 Exciting news! A new Order Communications System aimed at improving communication and efficiency in patient care has been launched in our SVUH Emergency Department.
Order Communications will replace the existing paper-based ordering process with a digital order communication and results system providing a fast-track method to safely and efficiently manage pathology orders.
The key benefits of the system are as follows:
Electronic Orders and results are available against the patient record in one system.
Paper based, time consuming and error prone manual processes are replaced.
Lost orders, duplication and double-entry is significantly reduced.
Enables results to be endorsed by clinicians.
Patient Safety – alerts created for critically abnormal values.
Order templates and favourites are configured for quick selection.
Electronic labelling and barcodes support more efficiency order matching.
Real time reporting.
Staff spoke enthusiastically about the impact Order Communications will have on both staff and patients at the launch.
"I am absolutely delighted to see order communications being released as part of the hospital's strategic plan to become more paper-light and environmentally friendly. Responding to the growing needs and expectations of patients is an integral part of our overall strategy. This is a real example of collaboration across a number of departments, and I would like to sincerely thank all staff involved."
Michele Tait, Interim Chief Executive Officer
"Emergency Staff are delighted this project has come to fruition. A culmination of hard work by a multi-disciplinary and multi-professional workforce, ultimately it will bring benefits to our patients through improved efficiencies and effectiveness. A huge thanks to all who helped us get to this position."
Prof John Ryan, Consultant in SVUH Emergency Department
"This was a highly complex project that required significant effort and input from the Emergency, Laboratory, Phlebotomy and ICT departments. I'm very grateful to everyone involved in the project, the benefits of which, will lead to the enhanced delivery of patient care."
Dermot Cullinan, Director ICT
"From a laboratory perspective the implementation of OCM will greatly increase efficiency by helping to automate laboratory processes such as manual data entry. The improved ordering process, test tracking and audit trail associated with OCM will reduce test turnaround times and improve patient safety."
Donal Murphy, Laboratory Manager
Well done to all involved!
#healthcare #emergencydepartment #innovation #SVUH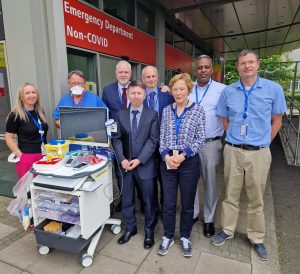 Patient and Visitor Handbook
Our handbook contains all the important information you need when visiting our hospital whether you are a patient or a visitor.
Travelling to and from the hospital
Elective admission information
Emergency Department attendance
Patient safety information
Information on what we will do to get you home
Data protection
Security information
Infection control policy
No smoking policy
Visiting arrangements
Daffodil Centre
St. Vincent's Foundation