SVUH NET Team is proud to have been re-accredited by the European Neuroendocrine Tumour Society (ENETs) – ENETs Accreditation 19/01/2023 to 18/01/2028
15th March 2023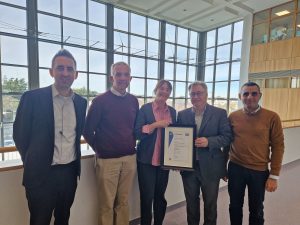 On 28th October 2022, the St. Vincent's University Hospital (SVUH) National Centre for Neuroendocrine Tumour (NETs) hosted a DQS-European Neuroendocrine Tumour Society (ENETs) accreditation team for re-accreditations as part of an international Centre of Excellence certifications process. The SVUH NET MDT consists of a multidisciplinary team of physicians, surgeons, radiologists, pathologists, nursing and administrative staff. The NET Team were delighted to host the DQS-ENETs accreditation team consisting of an internationally renowned NET specialist auditor Prof Kjell Oberg and Dr Andrea Sydow (representing DQS auditing services); the visiting team were formally welcomed by Interim CEO Michele Tait.
A rigorous accreditation process was completed covering a plethora of areas in the NET field, including service structure, NET-consultation process, overall scientific activities and patient involvement.
The NETs team was supported by members of the MDT in completing the above accreditation for the respective areas/specialities. The NETs team are grateful for the support received from both colleagues and team members across the hospital and administrative support and management.
Following the accreditation process, the auditors determined that the SVUH NET Centre should be recommended for full certification for 5 years and additional recommendations for improvement to be implemented within this time frame were also provided to the NETs team.
ENETs accreditation had previously been secured by SVUH in 2017. Securing reaccreditation for a further 5 years from 19/01/2023 to 18/01/2028 is a testament to the service provided by the SVUH NET MDT. Sixty five CoE have been accredited since 2009 and the NET-SVUH achieving re-accreditation status is a significant achievement. Well done to all involved.
#ENETS #NETs #accreditation
Pictured left to right above are: Dr. Mark Doherty, Consultant Oncologist; Prof Donal O'Shea, Consultant Endocrinologist; Ms Lisa Cullen, NET CNS; Prof Dermot O'Toole, Consultant Gastroenterologist and Clinical Lead NETs, and Dr. Hussein Almeamar (Research Fellow & NET Physician)
Patient and Visitor Handbook
Our handbook contains all the important information you need when visiting our hospital whether you are a patient or a visitor.
Travelling to and from the hospital
Elective admission information
Emergency Department attendance
Patient safety information
Information on what we will do to get you home
Data protection
Security information
Infection control policy
No smoking policy
Visiting arrangements
Daffodil Centre
St. Vincent's Foundation